Cuba-infused Women's Jazz at Canadian Festival
by Jenny Cressman  (Photos: Jon Snelson for Huntsville Festival of the Arts)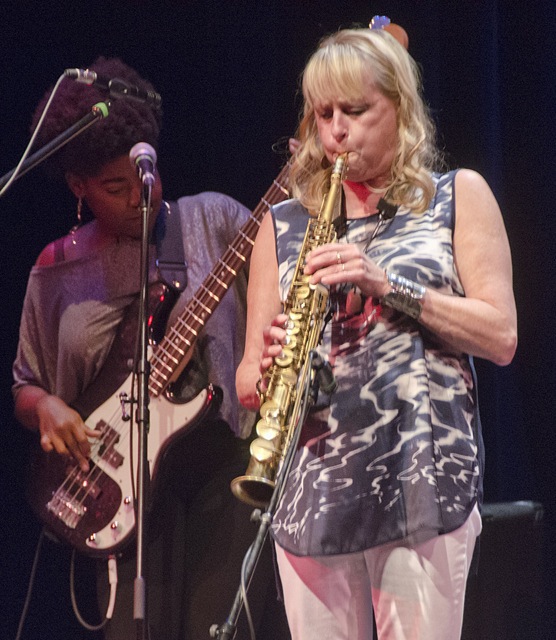 HAVANA TIMES — I recently had a delightful taste of Cuban music right in my own Canadian back yard – in the small town of Huntsville, Ontario, where I live. This wonderful concert starred Jane Bunnett and her all-woman band, Maqueque, who were brought to our local Algonquin Theatre stage by the Huntsville Festival of the Arts, during their annual August jazz weekend.
I had seen Jane Bunnett perform before and knew her to be an outstanding musician. She has been racking up awards and accolades since 1988, when her debut album, "In Dew Time," was released. Her national honors include several Juno Awards and an Order of Canada appointment, but her recognition is not solely due to her achievements on the soprano saxophone and flute; she is also an ambassador of music, particularly when it comes to Afro-Cuban jazz.
Not one to rest upon her laurels, however, Jane Bunnett is playing a variation on the theme this year. She assembled a hot band of Cuban musicians, released a CD entitled "Jane Bunnett and Maqueque," and now they are touring throughout Canada and the U.S. And, when not on tour, she noted during the local concert, the band members are all living at her home in Toronto. How's that for commitment to a project?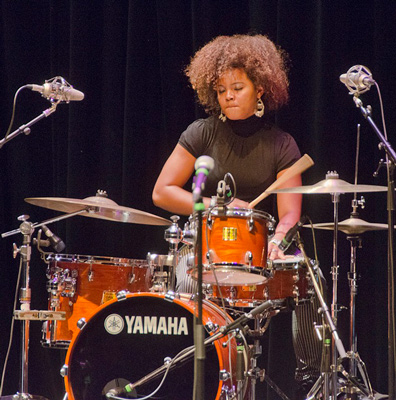 Jane credits her husband and fellow musician, Larry Cramer, with the idea for this music project, noting that he's now the only male in a house full of women! Those women are highly talented musicians hailing from various parts of Cuba, brought together with the assistance of singer/composer Daymé Arocena. As the story goes, Jane was at a jazz festival in Cuba, heard her sing and was blown away. The wheels started turning and, before long, they were working together to assemble the ensemble that became Maqueque.
Daymé provides lead vocals and is a powerful presence in the band, and adds verve to the stage show, even though she is needlessly shy about speaking English. She also wrote three of the songs featured on the CD; six songs were composed by Jane and the other two are reworked classics – "Ain't No Sunshine When She's Gone" by Bill Withers and "Mamey Colorao" by Pedro 'Peruchin' Justiz.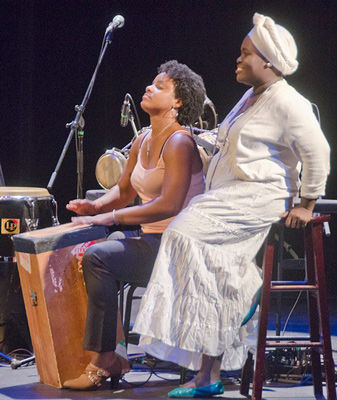 As the CD liner notes explain, "Maqueque" (pronounced ma-KEH-KEH) is word from an ancient Afro-Cuban dialect that refers to the spirit of a young girl, which is a perfectly evocative name for this group. In addition to diminutive Daymé with her big voice, the other talented women in the line-up are: Magdelys Savigne on percussion/batas/congas; Yissy Garcia on drums; 'Yusa' on bass/tres guitar; Danae Olano on piano; Celia Jimenez on bass; Jane on flutes/soprano sax/piccolo/marimbula; and they all lend a hand with vocals. The musicianship of this group is truly impressive, and I would encourage anyone to seek them out!
The group's CD is already out here and will be released in the U.S. in early September. Their website indicates they've been busy touring in Canada this summer and will be playing assorted venues south of the border in the upcoming months. There is no word yet on if or when they might perform in Cuba.
If jazz fans in Cuba are lucky, perhaps Jane Bunnett and Maqueque will be on stage during the 30th annual Jazz Plaza, Havana's International Jazz Festival, which will be taking place Dec. 17-21 this year.
—–
Jane Bunnett and Maqueque 2014 USA Tour
August 10: Litchfield Jazz Fest – Goshen Fairgrounds – Goshen, CT
September 11: Scullers Jazz Club – Boston, MA
September 12: The Side Door Old/Lyme Inn Jazz Club – Connecticut
September 14: Lake George Jazz Festival – Shepard Park, Lake George, NY
September 15-17: Friends University – Wichita, Kansas
September 19: Mount Vernon Country Club – Denver, Golden Co
September 22: The Blue Note Jazz Club – 8:00 pm and 10:30 pm – NYC
Click on the thumbnails below to view all the photos in this gallery