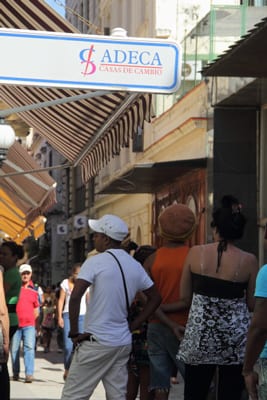 Ask Our Travel Expert
Havana Times wants to help answer your Cuba Travel questions. We encourage readers planning future trips to the island to write in any uncertainties that we may be able to help with. We'll almost always get back to you within a few days. You can reach us at this link: Cont@ct HT.
Should I bring my British Pounds to Cuba or another currency?
---
QUESTION: Dear Havana Times, I am travelling to Cuba on my own arriving 3.2.16. I am coming from the UK. Do I bring UK notes and is it best to change them at the airport.  With kind regards,  Dr. Lisa Silver
ANSWER: Dear Lisa, here are the latest rates at the money exchange houses called (CADECA) in Cuba.  No problem with taking British Pounds.  There are also ATM machines for Visa and Master Charge available, although you might want to double check with your bank to be sure your credit or debit card is excepted in Cuba.  (Almost for sure they are).
There is a CADECA at the airport so you can obtain some CUC immediately upon arrival in Cuba. The rate is the same as in town. Also at the airport, at the end of your time in Cuba, you can change your left-over CUC (as they are worthless outside of Cuba) to another currency.
Here are today's exchange rates for several currencies in relation to the Cuban Convertible Peso (CUC).
Bear in mind that what is shown is the amount in CUC which can be acquired with a unit of the currency.
| | | |
| --- | --- | --- |
|  Currency |  Symbol | Value |
| Pound | GBP | 1.4257 |
| Canadian dollar | CAD | 0.6879 |
| Swiss Franc | CHF | 0.9984 |
| Japanese Yen (*) | JPY | 117.6471 |
| American dollar (**) | USD | 1.0000 |
| Mexican Peso | MXN | 0.0547 |
| Danish Krone | DKK | 0.1462 |
| Norway Krone | NOK | 0.1132 |
| Sweden Krone | SEK | 0.1165 |
| Euro | EUR | 1.0912 |
| Convertible Cuban peso | CUC | 1.0000 |
( *) Yen amount per CUC.
(**) A tax of 10% is applied before performing the conversion.
Exchange rates are updated every hour.
Renting a Car in Havana: Should I Reserve?
---
Question: We, me, my wife and 3 kids will come to Cuba at the end of July for about three weeks. What's the best way to rent a car. Should we organize it from here or should we book it by arrival ?
Answer: Reserve the car from your home country because you might get here and have problems getting a car the last minute. Even though tourism is now entering low season (June-September) sometimes cars to rent get scarce in Havana.
It is best to get a mid-sized car because the small/compact models are very small and sometimes don't have air conditioning and are usually older. Also remember that you get the car with a full tank of gas that you pay for. This means you should return the car on empty.
Remember be sure to print all confirmation information and have a hard copy ready when you arrive to Havana. Also double check if you have to put a deposit in cash in Cuba or if it is included with your reservation.