Fidel Castro Receives Venezuela's Maduro

Former Cuban President Fidel Castro received the Venezuelan leader Nicolas Maduro at his home in Havana on Tuesday. Castro congratulated Maduro for his sending a plane of assistance to the population in Gaza, reported dpa news.
Cuba Gets OK to Download Google Chrome
Internet giant Google announced Wednesday that its Chrome browser can now be downloaded in Cuba. The change comes as part of an easing of some US sanctions against the island, although the half century embargo remains in place.
Cuba Extends Consular Services in USA until Year's End
The Cuban Interests Section in Washington, D.C., will continue to renew and extend the validity of passports held by Cubans residing in the United States until December 31, despite having been unable to find a bank willing to handle its accounts.

Cuba, USA Converge over Cave Research
María Pérez, an Assistant Professor in West Virginia University's (WVU) Department of Geology and Geography, is using a three-year grant from the National Science Foundation to research the collaboration between Cuban and U.S. speleologists.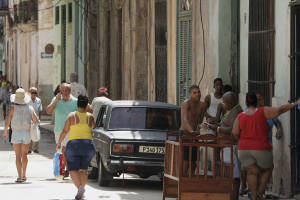 A Record of Cuban Life
In the images below, I have tried to capture the way we are, what we do and how we live today, when the magic of photography, new technologies and social networks allows us to reach innumerable people, scattered across our global village. (30 photos)