Venezuela Votes for Peace, Sacrificing its Democracy

For the vast majority of Venezuelans, it's a fact that there are two huge problems in their country: a breakdown in democracy and a breakdown in the economy. Both of these ingredients together make the perfect coctail for corruption, tyranny and increased violence.
Boris Lurie in Havana
Boris Lurie's exhibition in Havana brings the NO ART movement to the temporary exhibit room at Cuba's National Museum of Fine Arts. It includes nearly a hundreds of his works and will be on display until January 7, 2018. (21 photos)
Matanzas after Irma, a Three-Act Play
Elaine Diaz takes us to Matanzas province where she gathers the stories of a fisherman, a farmer and a survivor of Hurricane Irma.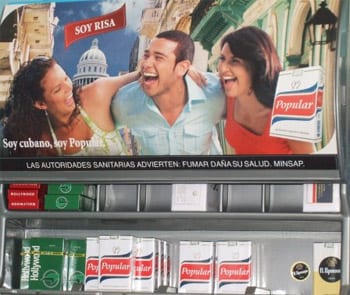 Cuba Offers Cheaper Nicotine for the Revolution and the Future
While some might say business is business, Repatrado sees a series contradiction in lucrative State owned tobacco companies lowering the price of cigarettes and promoting their consumption in Cuba, especially among the youth, and the costs to the national health system in the medium and long run.
Trump Pins Blame Directly on Cuba for Sick US Diplomats
Donald Trump said Monday for the first time that he believes the Cuban government is behind the mysterious acoustic attacks on US diplomats in Havana that led Washington to withdraw the majority of its personnel from the island. He did not say if he is contemplating new reprisals.