Cuba Finally Cut from US Terrorism List

As requested by US President Obama, the State Department on Friday officially took Cuba off Washington's list of state sponsors of terrorism, where it has been parked since 1982.
The Story of a Cuban Survivor
Two hours into our first meeting, I knew that Frank is gay; is a composer and a writer; was nearly successful at suicide; is the father of two children; and has AIDS. His relationship with the disease is like a marriage: it's been with him for 24 years, the same time that he's been with his partner Tony.
Do Cuba's Youth Support the Revolution?
Foreigners visiting here tend to ask us questions that aren't the least bit easy to answer. A short while ago, a friend from abroad asked me if I believed young Cubans supported the revolution.
Cuba: From the Republic in Arms to a Republic of Law
I wonder to what extent the Cuban nation is what it wanted to be and to what extent circumstances forced it to be what it is.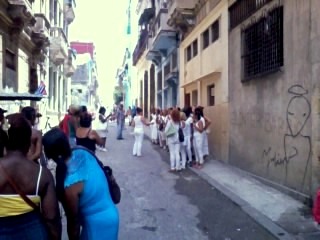 Ladies in White on My Street Corner
People started to gather around the women. Thankfully, the surprise demonstration wasn't met with aggression. Those gathered began to comment under their breath, as though the people speaking were expressing the fear in themselves, a fear these government opponents had long rid their minds of.