Miami Airport: The New Haven for Cuban Migrants

Miami International Airport has become a haven for thousands of Cuban-born travellers who request asylum in the United States after landing on US soil and approaching an immigration officer. A wave of "aerial refugees" is knocking on Miami's doors.
For Public Media and Beliefs Without Discrimination in Cuba
I am expressing a conviction that is shared by many others. Trampling on the secular and impartial nature of the State and the public media is trampling on the freedoms of all citizens of all creeds. Such freedoms are curtailed when one religious message is imposed on those who do not want to receive it, through a television broadcaster that people pay for with their taxes and work.
Getting to Know the Unknown Che
On February 26, 1964, Ernesto "Che" Guevara wrote the following to a man living at 560 Juan Bruno Zayas Street, Vibora, Havana: "Unfortunately, what reaches the majority – myself included – is an apology of the system and not its scientific analysis."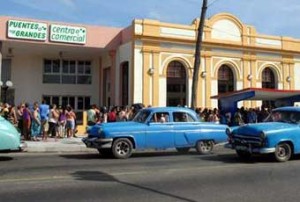 Shortages to Continue in Cuban Stores
When a Cuban goes shopping they never know what they will find on store shelves. There may be plenty of some unaffordable luxury products and acute shortages of basic necessities. We publish a report from Café Fuerte on the current shortages of many basic products in the country.
Habanarte Festival Begins
From September 11-21 the Cuban capital is immersed in the first edition of "Habanarte '. Sponsored by the Ministry of Culture, the all-encompassing event involves around a thousand Cuban artists of all demonstrations; including music, visual arts, literature, film, dance and theater. (33 photos)