HT Opens Cuba Photo Contest 2014

This is the official announcement for the HT Cuba Photo Contest 2014. It is our sixth contest, one for each year of the online publication. The fifth contest saw a record number of photographers (90) entering their pictures. All finalists and semifinalists' photos will be published by HT.
Alan Gross Faces Death in Cuba if Obama Doesn't Change Approach, says wife
The wife of USAID subcontractor Alan Gross, imprisoned in Cuba, held a rally outside the White House after delivering a letter to the President from her husband. She called on Obama to do "whatever it takes" to secure Alan's release. Mrs. Gross rejected the State Department statement yesterday calling on the Cuban Government to "release Alan Gross immediately and unconditionally" saying that this tact has gotten them nowhere for the past four years and if the U.S. government does not drop the, "unconditionally, this will be a death sentence for Alan… Please Mr. President don't leave Alan to die in Cuba."
Unionpay in Cuba: China Steps on the Toes of the US Embargo
The Chinese bank conglomerate "Unionpay", began earlier this year to offer its services in Cuba, after petitions by Chinese students studying on the island. Having automatic tellers and exchange locales that accept Unionpay cards on the islad also has a collateral benefit for the small Cuban community in the Asian country.

Cuba's Monetary Unification Reaches Critical Stage
Recent explanations by two renowned Cuban economists about the acute problem of monetary duality have disclosed some facts not usually understood by the general public that allow a clearer view of what to expect in the process of currency unification. Both economists agree in one way or another that the expectations people have about monetary duality tend to be higher than what really can be expected.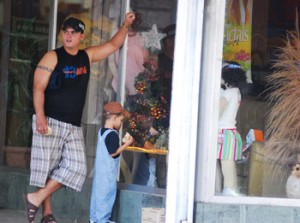 Cuba's Insensitive Fathers
Being a mother has been the greatest, most beautiful experience of my life. I feel proud of the sacrifices – both joyful and sad – that I've had to make over these past 12 years, trying to give my Carlos Adriel the best, shield him from the worst and give him a childhood happier than the one I had.