Heineken's Brief Reign in Havana

Heineken has been the top-selling beer in Havana for some days now. The city's Carlos III shopping mall, possibly the largest in the country, appears to have no other beer brand in stock, and one runs into the familiar green bottle at every street corner in the capital.
Cubans, Destination Ecuador and Beyond
"The objective is getting there to go beyond," confess Mario and Ismaray, a couple of young Cubans who plan to travel to Ecuador on the first leg of a journey to the United States. After demanding for more than a year a letter of invitation as a prerequisite to allow the arrival of Cubans, the Ecuadorean government on April 1, 2014, again allowed 90-day tourism stays without the need for visas.
Cuba and its New Investment Law: From Sustainable Development to Neo-Liberalism
Sustainable development" has been Cuba's guiding tenet since the publication of the Economic and Social Policy Guidelines of the Party and Revolution in 2011.The concept, assumed as an axiom, does not require any kind of verification – it is an absolute truth.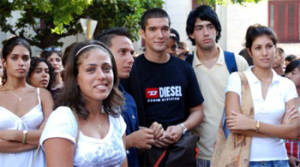 On the Alleged Resignation of Cubans
Some Havana Times commentators and regular contributors have made a habit of inciting Cubans living on the island to express their true feelings about the country's situation with more sincerity. They don't understand why a vast majority of people are passive.
Conrado Marrero Departs Two Days Short of 103rd Birthday & Baseball Loses its Oldest Survivor
On Wednesday morning (April 23, 2014) Conrado Marrero, 102, passed away quietly in his native Havana, Cuba, marking the end to one of the most celebrated and tenacious baseball lives on record.